DIE VERTRETUNG
The Substitute Teacher - A short film
When you permanently stay replaceable ...
Sandra's new job as a teacher is more challenging than she thought. Her pupils and her mother are giving her a hard time. She is everyone's plaything, a living doll. She is sexually harrassed by the schoolmaster and suffers from burn out. How can she save herself from this situation?

Le travail de la jeune professeur Sandra s'avère beaucoup plus difficile qu'elle ne le pensait. Ses élèves lui rendent la vie difficile, sa mère aussi. Elle devient le bouc émissaire de tout le monde. Une relation très compliquée avec le directeur de l'école et l'épuisement physique et moral la conduisent au burnout. Comment peut elle se sortir de cette situation?

Der Job der jungen Lehrerin Sandra gestaltet sich härter als sie gedacht hat. Die Schüler machen ihr das Leben schwer, so wie ihre Mutter. Sie wird zum Spielball für alle, zur Puppe. Ein kompliziertes Verhältnis mit ihrem Direktor und Burnout setzen ihr zu. Wie kann sie sich aus dieser Situation retten?

Sophia Aichinger
works as an actress in theatres like Vienna Burgtheater and many Austrian films
Valentin Schreyer
works as an actor for TV (e.g. Lindenstraße), film and theatre in Austria and Germany



with

Rita Hatzmann, Andrea Schramek, Katrin Eberl, Frens Mike, Andreas Radlherr, Claudia Bruckner


Constantina Elisabeta Vanca, Andreas Reisenbauer, Anas El-Tahir, Jakob-Sebastian Slawicek, Enes Birkent,
Franziska Adelbrecht, Rukiye Ildiz, Anna Hoppel, Peidong Cao, Noam Jank, Gustav Schocher, Nikolaus Gamperl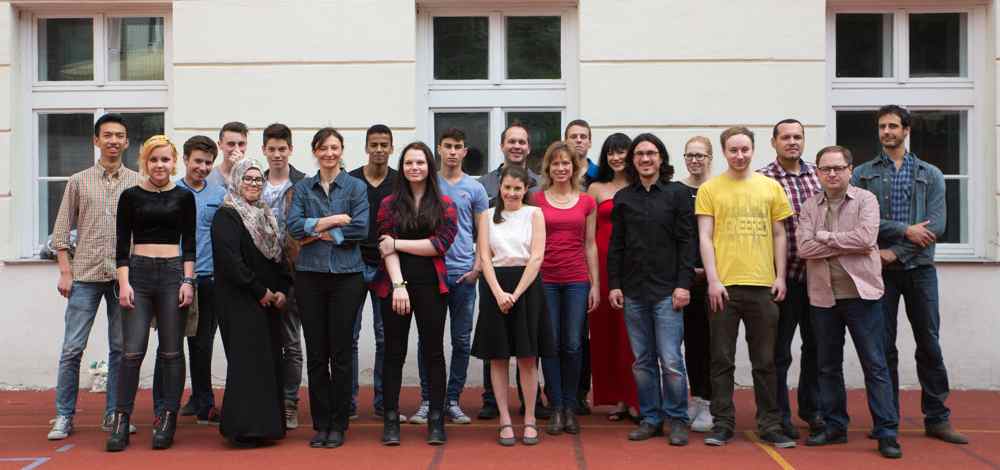 director
Markus Wimberger
He works as filmmaker since more than ten years. His last feature "Bloody Monster"
is an iconic work of the fresh new Austrian genre-film scene.
Cofounder of Mitternachtsfilm [mitternachtsfilm.com]
script
Andreas Reisenbauer
cinematography
Alexander Bachmayer
editing
Benji Furtlehner
sound recording
Michael Bauer
music
David Thallinger,
Andreas Reisenbauer
sound editing
Benji Furtlehner
,
Andreas Reisenbauer
makeup Lisa Maria Schirmbrand, Krisitna Miti
č
line producer
Benji Furtlehner
production assistance
Franz Mikysek,
Claudia C. Bruckner,
Olivia Klonfar
translations
Lisa Maria Schirmbrand,
Ronel Oberholzer,
Olivia Klonfar
production
Andreas Reisenbauer
thanks to Günter Maresch, Doris Fleck
location Erich-Fried-Realgymnasium
supported by
Kulturkontakt Austria
Austria 2015
PRESSTEXT
DIE WELT WIRD NICHT NUR DADURCH BESSER,
WIE VIELE MENSCHEN WIR RETTEN,
SONDERN AUCH DADURCH,
WIE WIR MITEINANDER UMGEHEN.
BURNOUT IST KEIN PRIVATES PHÄNOMEN,
ES BETRIFFT DIE GESAMTE GESELLSCHAFT.
Duration: 8' 30''
Formats: BluRay, DCP
German with English or French subtitles
alternative Titles:
Die Vertretungslehrerin / The Substitute Teacher - A short film
Wenn die Arbeitslast zu viel wird und man immer austauschbar ist.
Ein Kurzfilmdrama.